Byzantine Icons: Christ Pantocrator
The Christ Pantocrator icon is one of the most iconic and widely recognized images in Byzantine iconography. It depicts Jesus Christ as the "Ruler of All" or "Almighty" and is a central representation in Orthodox Christian art.
In this blog, we will look at its description and symbolic elements.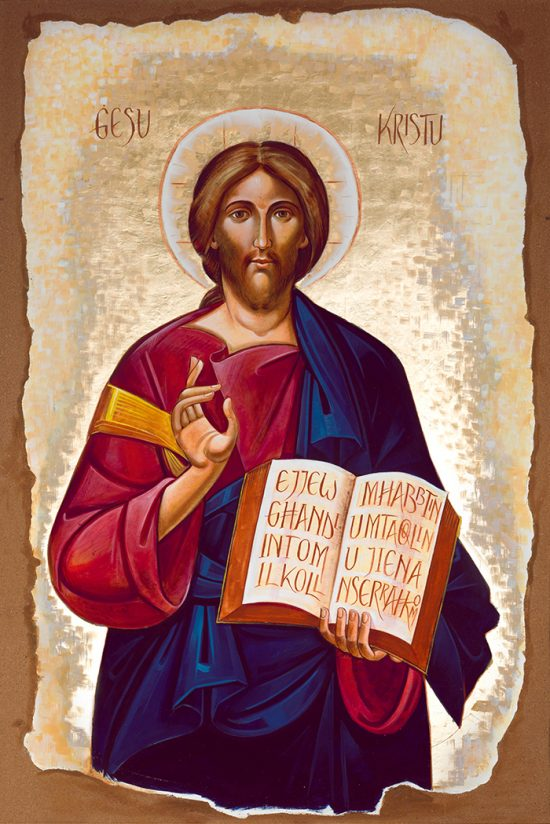 Description
First we will take a look at the different elements of the icon.
Face and Expression
The Face: Christ is shown frontally, looking directly at the viewer, portraying a sense of majesty and authority.
Serene Expression: The expression is solemn and serious, reflecting the divine wisdom and judgment.
Head and Hair
Halo: A circular or cruciform halo surrounds Christ's head, symbolizing his divine nature and holiness.
Hair: His hair is typically shown parted in the middle and flowing onto his shoulders, symbolizing his eternal existence.
Hand Gestures
Right Hand: Often raised in a gesture of blessing, representing Christ's divine authority and grace.
Holding a Book: In the left hand, Christ often holds a book, symbolizing the Gospels or the Word of God. Sometimes, the book might have specific inscriptions or symbols, indicating different passages or teachings.
Robes and Colors
Robes: Christ is typically depicted wearing a red tunic under a blue mantle or robe, symbolizing his divine and human nature.
Color Symbolism: Red symbolizes divinity, while blue represents the heavenly realm.
Eyes
Eyes: The eyes of Christ in the Pantocrator icon are intense and penetrating, symbolizing his omniscience and the idea that he sees and knows all.
Symbolism
As mentioned earlier, every element in an Icon is not places there a caso, but each carry a meaning. Next we will look at symbolism of this icon.
Pantocrator Meaning
"Pantocrator": the word "Pantocrator" has its roots in ancient Greek and means "Ruler of All" or "Almighty." It is a compound word derived from two Greek terms:

Pan (Πᾶν): This word means "all" or "everything." It is an inclusive term, encompassing the entirety of something.
Kratos (κράτος): This word translates to "rule," "authority," or "power." It is associated with governance and control.
Divine Authority
Ruler and Judge: The Christ Pantocrator embodies Christ's role as the ruler and judge of the world, depicting his divine sovereignty and authority over all creation.
Divine Attributes
Divinity and Humanity: The image represents Christ's dual nature, highlighting both his divine essence and his incarnation as a human being.
Grace and Mercy: While depicting authority, the image also conveys Christ's loving and merciful nature, offering blessings and guidance to believers.
Spiritual Emphasis
Meditative and Spiritual Focus: The icon serves as an object of meditation and contemplation, inviting viewers to connect with the divine presence of Christ. In a next blog I write a personal reflection on this icon.
Conclusion
The Christ Pantocrator icon in Byzantine art serves as a powerful visual representation of Christ's majesty, authority, and divine nature. Through its symbolism and meticulous artistic representation, the Pantocrator icon has been a focal point in Orthodox Christian worship and contemplation, inviting believers to reflect on the dual nature of Christ and his role as the ultimate sovereign and compassionate guide.
Recent Posts